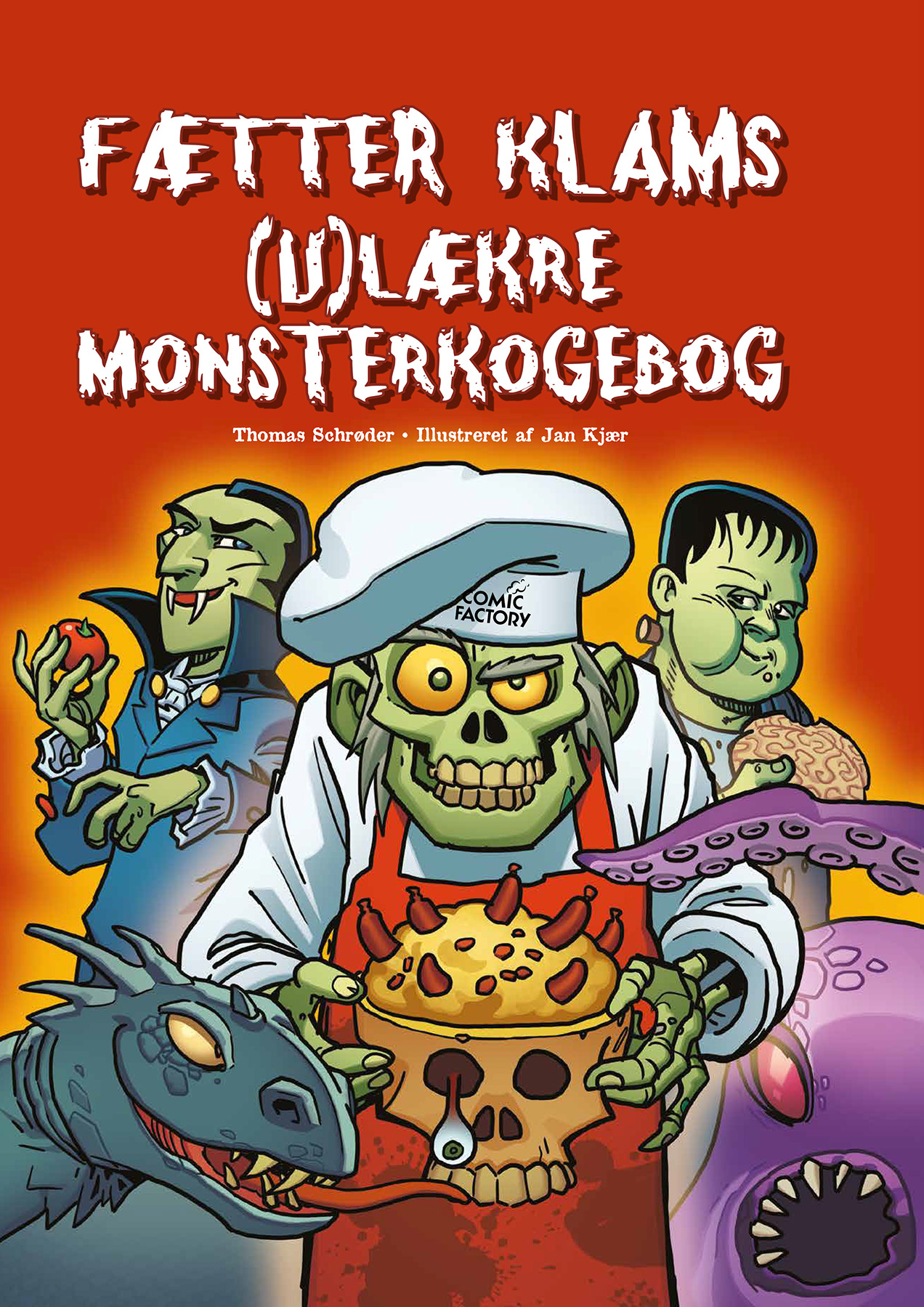 In 2017, Thomas Schrøder began working on Fætter Klams (u)lækre monsterkogebog (in English: Cousin Gross' (dis)tasteful monster cookbook).
A cookbook inspired by classic EC horror comics
The cookbook was a tribute to EC's horror comics and a way for him to combine his favourite monsters with his personal favourite food. Each monster is carefully paired with a fitting dish, which is then further elaborated in an introduction and origin story.
Thomas imagined it might become popular amongst fans of comic books and popular fiction. He didn't imagine that it would be as well-received by children and their families as it has been. The first print sold out, and a second printing is now available.
Gluten and dairy-free edition

– My girlfriend is gluten and lactose intolerant, which sparked the idea of a gluten and dairy-free monster cookbook based upon the same concept.
– We had the drawings and monsters already, and though some of the old recipes could be used in the new version, we had to rework and rethink a lot of recipes. After months of hard work in the kitchen, we had finished Fætter Klams (u)lækre glutenfri og lakotosefri monsterkogebog (Cousin Gross (dis)tasteful gluten-free and dairy-free monster cookbook). This newest edition will soon need a second printing too.
More monsters to come
– People are demanding to see more of Fætter Klam / Cousin Gross, which is why we are hard at work finding and pairing new monsters up with new (dis)tasteful recipes. As a matter of fact, this is the most challenging part: creating a dish that fits perfectly with a monster. Luckily, we have a talented artist whose art brings the monsters of the book to life.
– This time around we will create the two editions simultaneously – both the regular and gluten and dairy-free edition. And I can guarantee you one thing: it will be deliciously gross!
Data
2 books
88 pages
21.0 x 28.0 cm
Ages 6 years and up
Description
The Underworld's leading chef, good old Cousin Gross, has gathered 30 of the most terrifying monsters and their favourite dishes in the most (dis)tasteful cookbook the world has ever seen. The book was heavily covered on national Danish tv, radio and magazines when it came out.
Book 2
In 2021 came the follow-up, Cousin Gross' (dis)tasteful gluten-free and lactose-free monstercookbook.
Published digitally on Fairytell app in Sweden and Germany.
Thomas Schrøder
Author of the series "Cousin Gross' monstercookbook" and "The Impossibles" and author of "What ever turns you on", translator and Disney-expert.
Niels Voss Boldvig
Author and illustrator of children's books.
Artist of The Impossibles.