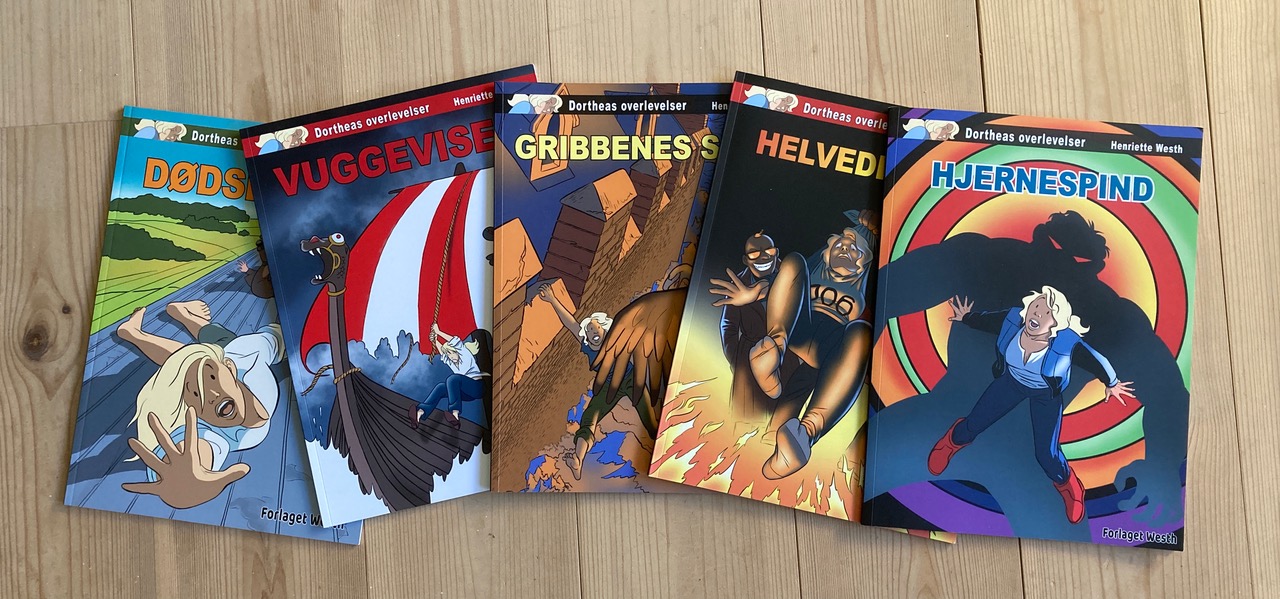 In just three years Danish artist Henriette Westh has written and drawn five 48-page books with her female hero, Interpol agent Dorthea Bourgogne, whose investigations takes her to castles, dungeons, train roofs and house roofs before the mysteries are solved. More books are underway.
We have asked Henriette to tell us about her work routines when making comics.
"Comic survival work with Dorthea can be tough, but it is always – always rewarding. Creating a full 50 pp book of comic frames complete with text and colours is a time-consuming process and can be approached in various ways, which intimately depends on the artist's work method and temperament. I myself, eg., am a slave to a very impatient nature, and consequently, my comic work process and results are shaped accordingly. Hence I have found the digital process to be preferable although I still love working with the old-fashioned pen and paper. Working digitally allows you to sketch, ink, colour and text in one go, which fits my impatient personality perfectly.
That being said, I find myself working "back to basics" whenever I feel the need to sense the heavy or fine grain of paper under my pen. For this purpose, I have developed mini-stories, "Dorthea-zines", that allow my readers to purchase original artwork.
Creating a digital Dorthea
Contrary to what many avid computer sceptics believe, the artist's "ductus" (the artist's personal stroke) is not lost when applying the digital process. It is merely translated through a digital pen instead of an analogue one. The computer is not drawing – the artist is! However, instead of waiting for scans of the original artwork as is the case with the old-fashioned method, one can directly and instantly colour the pages one has just created. Personally, I use the app ArtStudio on an iPad, drawing with an Apple pencil. The app allows me to work with digital layers that make the space-consuming lightbox superfluous. The following illustrations show how the stages are applied to a page from my comic book "Dorthea's Survivals: The Gates of Hell.", published 2021.
Writing directly on the iPad with an electronic pen.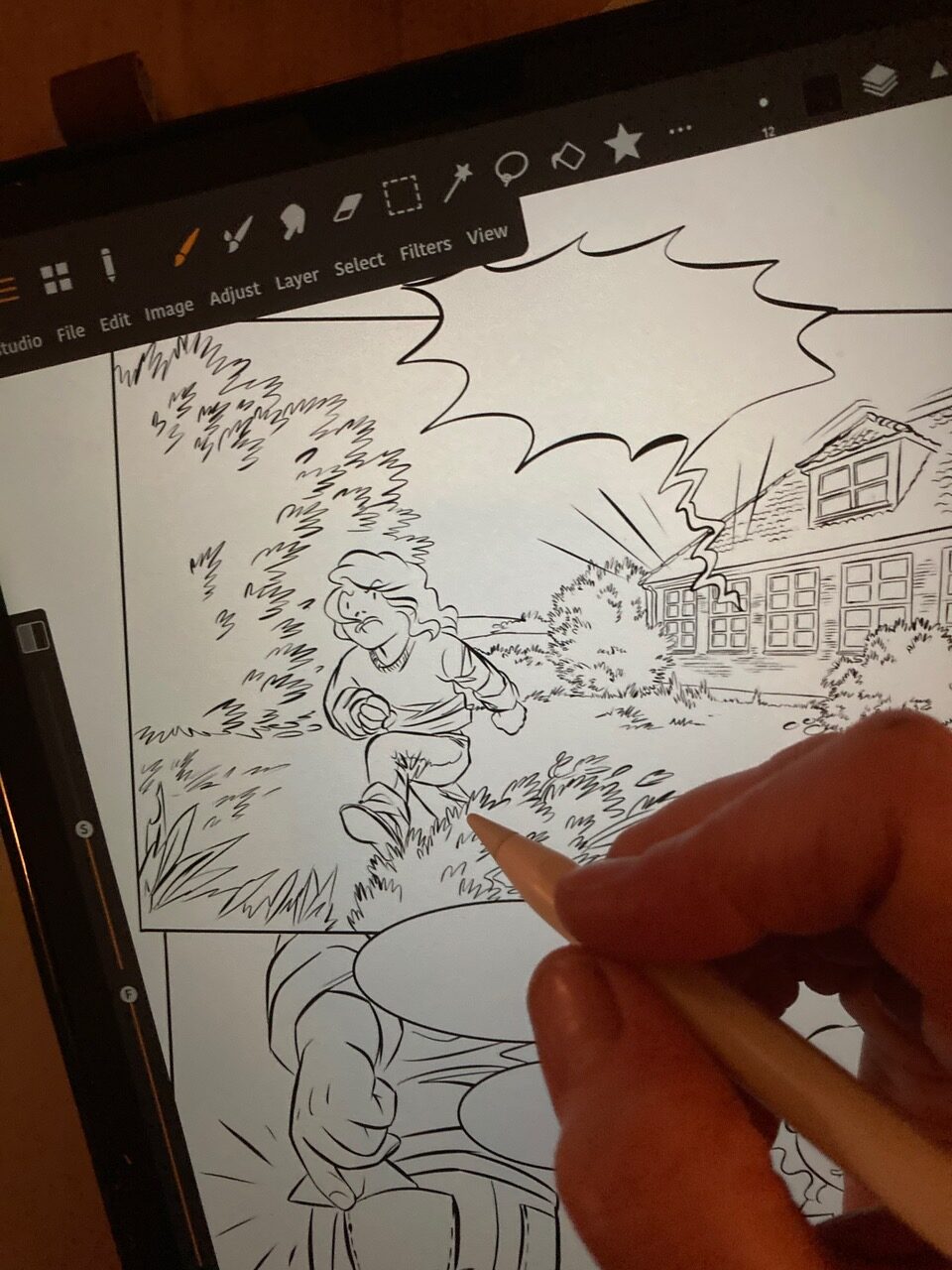 Layouting the page. Some artists work with one frame at a time, assembling the frames afterwards. I prefer working the entire page as one picture.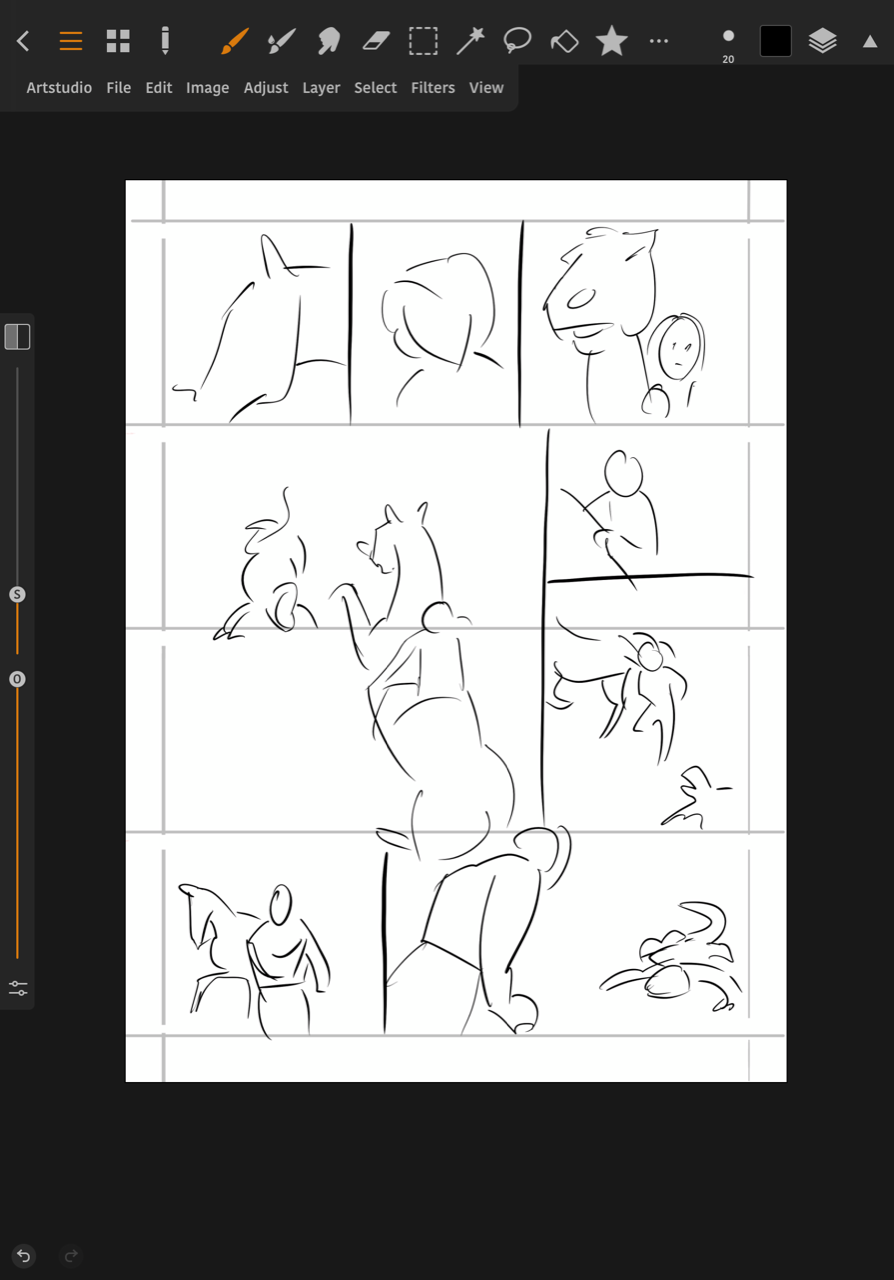 Drawing the blue sketch. Making the sketch blue is not entirely necessary. It is a residual habit from the time when I was working with real-life paper and when the way to make the sketch lines disappear was simply xeroxing the page subsequently. To make a sketch clearer, I sometimes apply red lines where the characters are concerned.
Inking. I normally ink all of it on one layer, but once in a while, partitioning the character ink and the background ink can be practical. Everything is drawn freehand.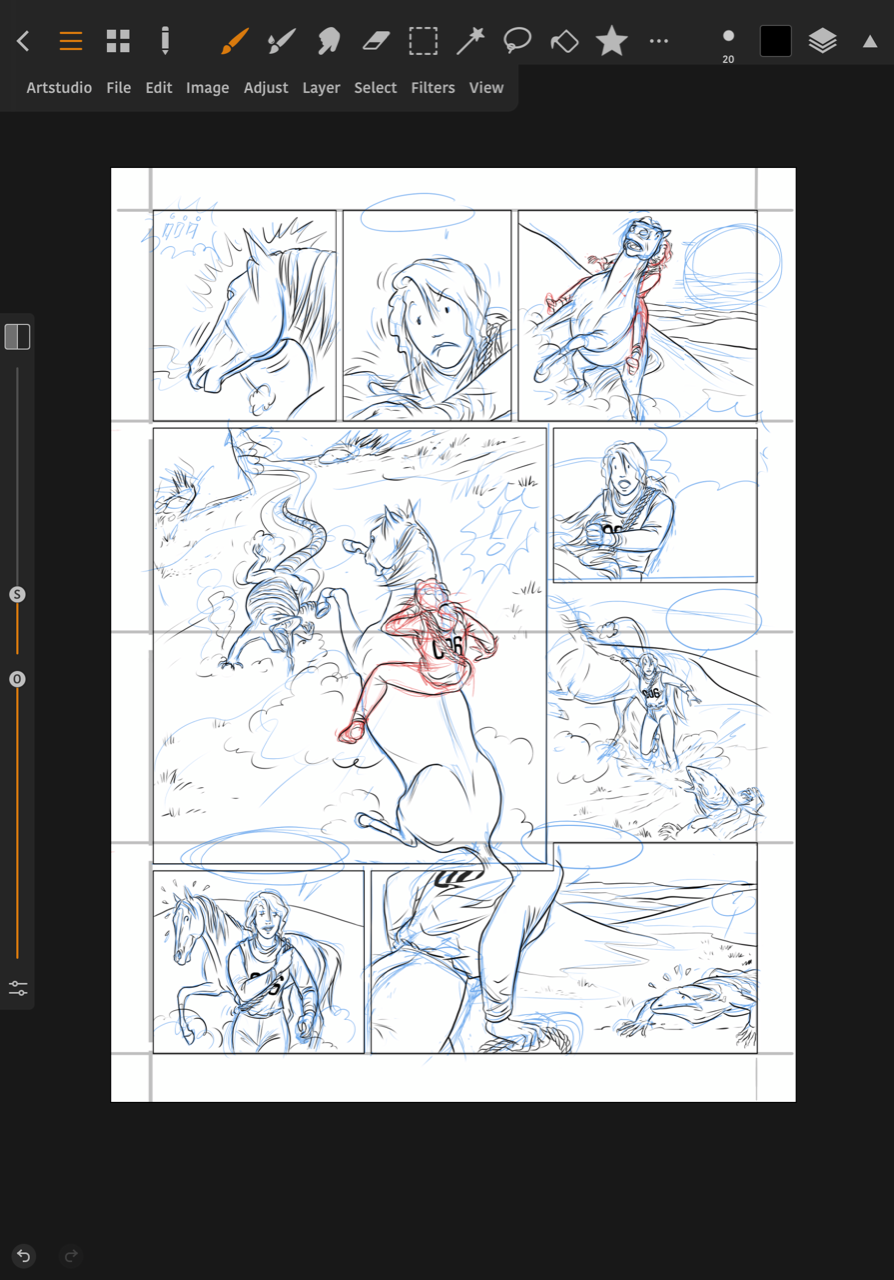 Once the inking is done, I start applying the background colours in what I lovingly call "paint-by-numbers". By this, I mean that nuances, shades and shadows are added later. I use various brushes depending on the texture I need.
Other layers are coloured, including the middle ground, the foreground and the characters.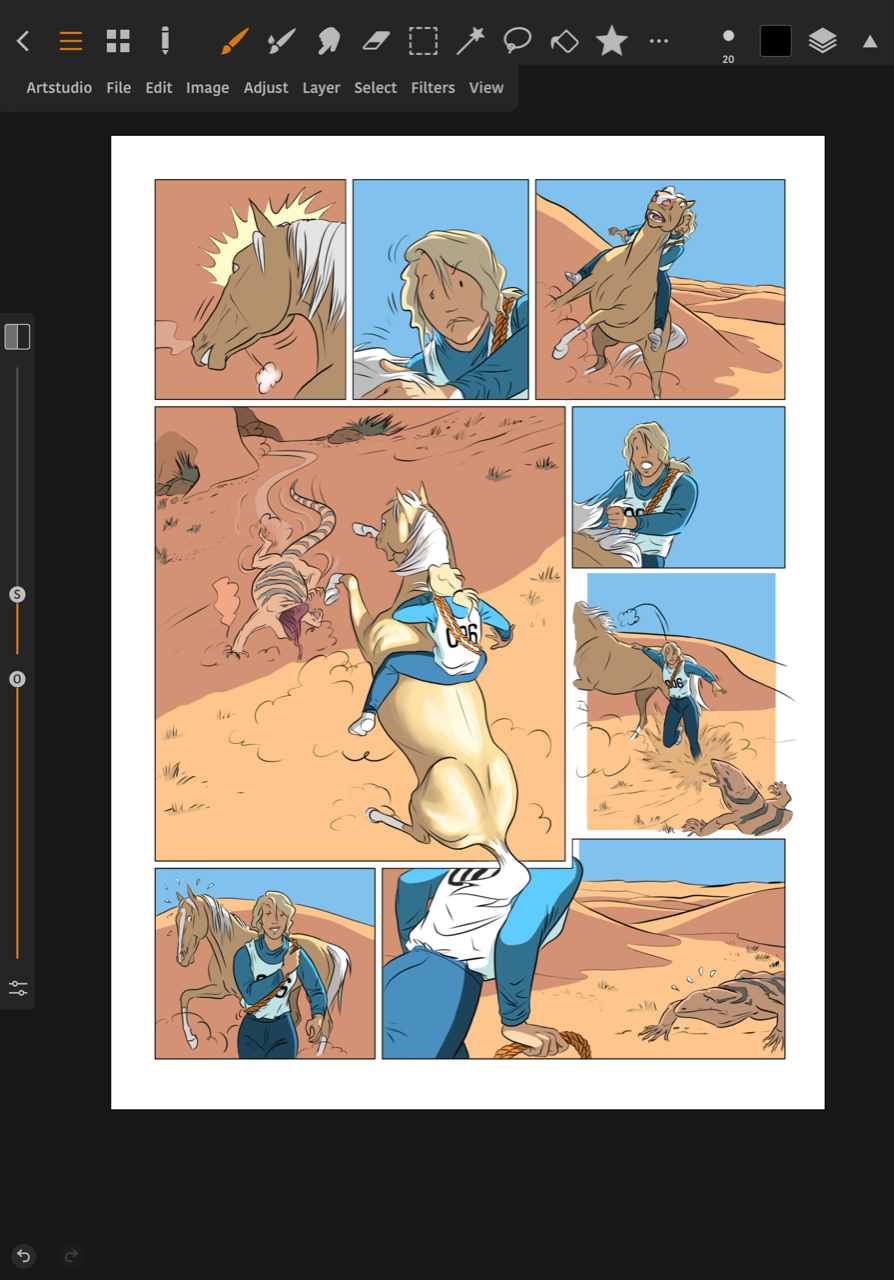 Certain light sources or foggy patches are added on separate layers and everything is touched up and finished. I usually go over the page more than once later as one's eyes need the rest to be able to spot errors and blank spots.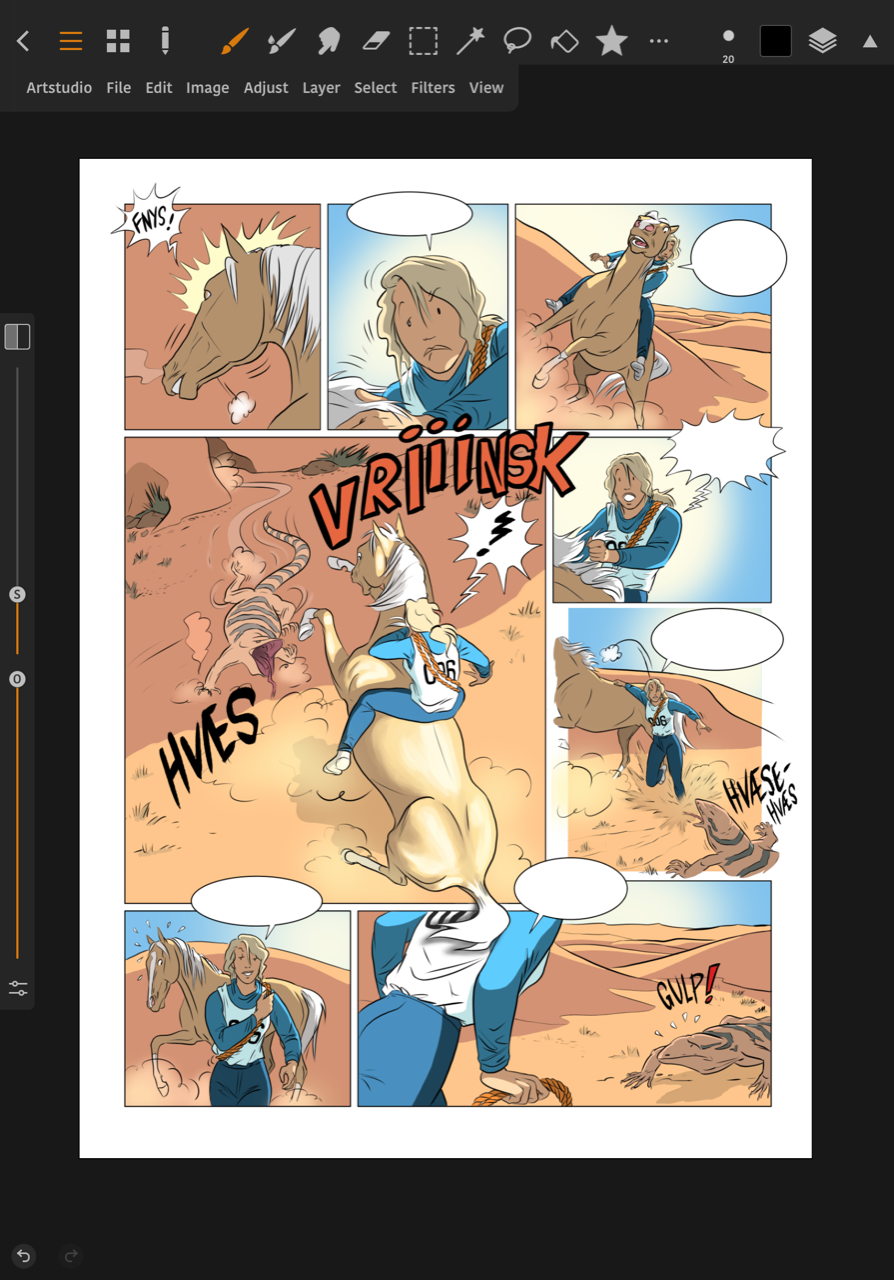 The rest is history, as one might say. Onomatopoietika and speech balloons are added on separate layers, and eventually, the text is added in a layout programme, in which the pages are put together in a book. DTP is generated and finally, after going through it a zillion times, the file is ready for printing. For all the practical advantages of digital bookmaking, the end result is still the joy of touching a real-life book, smelling the paper and listening to the rustle of paging through the story as it unfolds.
The story
So how does one come up with an idea and compose a story and a plot? The idea conception is often a haphazard occurrence. The artist might hear of something in the news, experience something personally, or the previous story may automatically lay the groundwork for the next. Once you have the idea, how do you go about realising it? According to many writers, three types exist: plotters, pantsers and plantsers (the latter a hybrid of the two former). A plotter will eg. fill his or her room with yellow sticky notes, create detailed and extensive flowcharts and typically use the better part of a year to shape and finish the story before starting to draw. A pantser starts from frame 1 with just the shadow of an idea and then see where it leads. A plantser will apply a mixture of the two.
I, myself, am a pantser. I start on page 1, having made no storyboard, mockup or even a list of ideas, and then I see where it goes. Basically, I "read" the story while I create it. It means I have no idea how the story ends or what the underlying plot is until the last three or four pages where I wrap it all up. It is an exceedingly exciting approach that satisfies my hunger for reading a story that I do not know in advance, and it also makes the process very fast as even the research is carried out in the course of the making. If I have no other obligation, a comic book of 45-50 pages takes me about 3-4 months to complete from start till finished DTP file, ready to be printed. I highly enjoy this work method, but in the process of creating my next "Dorthea's Survivals", I have had a more developed idea of what will happen. My first five books each comprise one, long story. The book I am working on now is a collection of four comic short stories. The stories are prequels that are showing four essential stages of Dorthea's past: her childhood, her training, the caper where she met the baron and the making of her current team. Hence, I had to have more distinct ideas of what they were about. No storyboards have been written, and I still just "start" on page 1, but consciously, I know what they are about. The rest is coming to me while I draw the pages.
Page 1 of the first story in my WIP, lovingly titled "Brat". About a four-year-old Dorthea and her somewhat challenged parents, who are at their wit's end as to how to bring her up.
Page 5 of the same story shows Dorthea aboard a coaster ship, giving the crew heart attacks.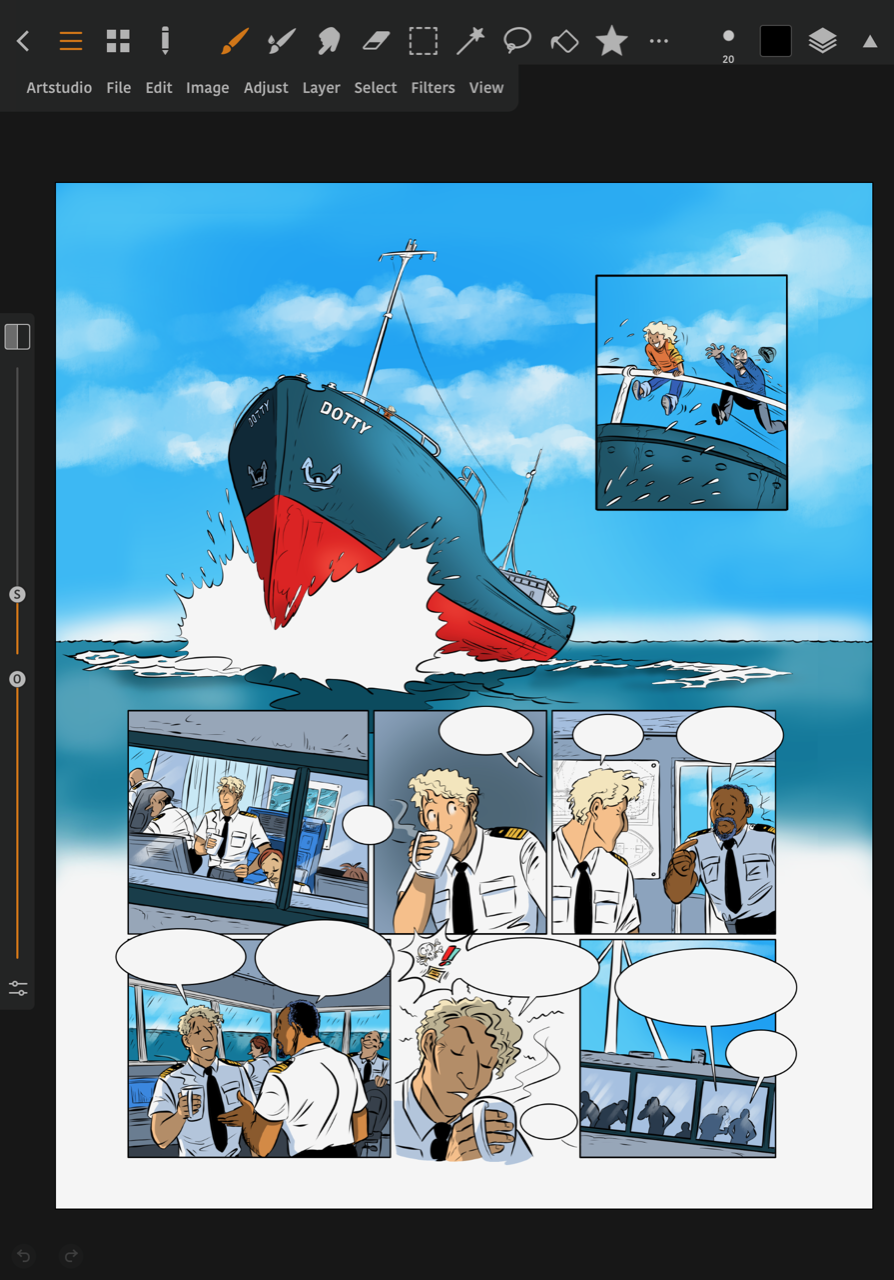 Page 11 of the same story. Little Dorthea's first run-in with baddies.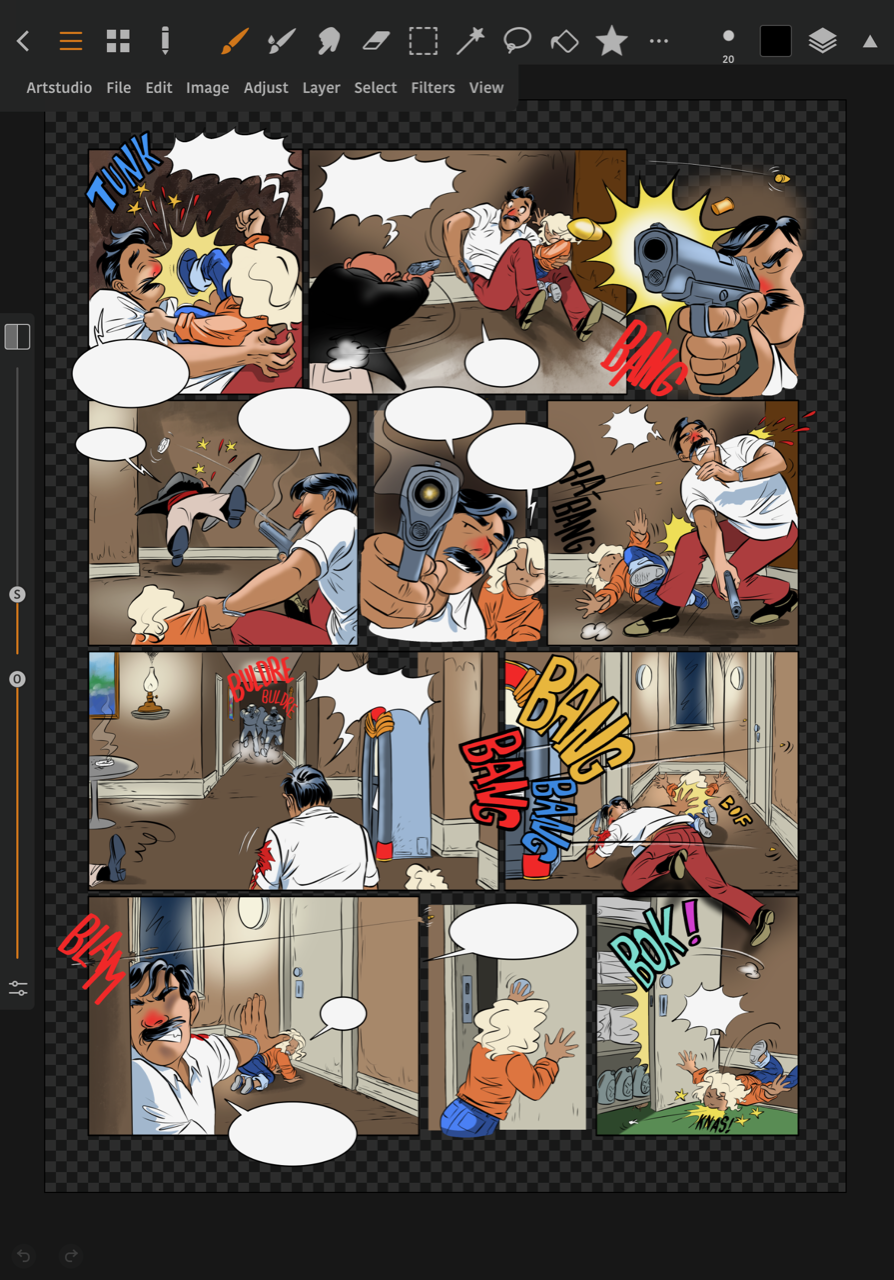 Analogue rough sketch for the second story of my prequels, in which Dorthea is all grown up and encounters a true challenge for the first time in her life.
The new Dorthea comic will be available by the end of 2022. My brain is buzzing with plenty of other ideas for Dorthea-survivals, so with any luck, Dorthea will be around for many years to come.
While working on the Dorthea prequels, I have also undertaken a contribution for the horror anthology "Absurd", published by Afkom.
Page 3 from the horror story. The creepy old man and the lovely young mother in the middle of the storm. Very loosely based on a Hans Christian Andersen story: "The Story of a Mother".
Other than that, I take various illustration assignments, but "Dorthea's Survivals" is my main focus. After a lengthy hiatus from the comic business, I now have a comic itch that constantly needs scratching; Dorthea is staying with me as long as I can move my fingers, only momentarily interrupted by assignments that might arouse my interest."
Data
5 books
More books in production
48 pages each
29.5 x 22.0 cm
Ages 9 and up
Henriette Westh
Born 1963, autodidact artist with an affinity for comics. In 1988, her first professional comic book, "Hamlet 5. akt, scene 2" was published by Bogfabrikken. In 2020 she rekindled her old comics character, Dorthea, and created a full story of 44 pages and established her own publishing house. Henriette is constantly working on new comic books, and she has no intention of stopping any time soon.